Local activities:
From the relaxing to heart pumping there is a myriad of things you can do whilst visiting the Freycinet Peninsula. Bushwalking, sea kayaking, scenic flights....the opportunities to get outdoors are endless. There is a great collection of paid guided activities, or plenty of things you can do on your own. Simply taking a walk on one of our spectacular beaches will take your breath away, and you may even have it yourself! More info...
Tour companies:
ALL4adventure
ALL4adventure
Experience All4adventure's unique blend of fun and adventure as you enjoy exhilarating riding, scenic lookouts and beautiful destinations.
Freycinet Adventures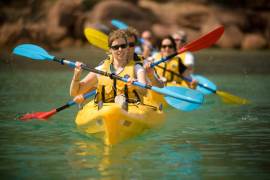 Freycinet Adventures
Award winning guided sea kayaking tours into Freycinet National Park. Tours depart daily year round. No experience required.
Freycinet Air
Freycinet Air
Scenic Flights! Let us show you Tasmania's spectacular East Coast from the air.
Freycinet Experience Walk
Freycinet Experience Walk
A four-day guided walk covering the entire length of the Freycinet Peninsula on Tasmania's East Coast, including the iconic Wineglass Bay.
Freycinet Golf Club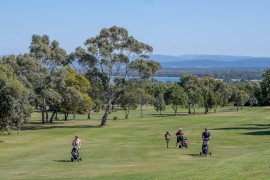 Freycinet Golf Club
Freycinet Golf Club is located on the Freycinet Peninsula, 6.5 kilometres west of Coles Bay, Tasmania. Sitting at the foot of the granite mountains know as the Hazards on the edge of the world renowned Freycinet National Park and Wineglass Bay.
Freycinet Lodge tastings
Freycinet Lodge tastings
Enjoy a food and wine experience and whisky tastings at Freycinet Lodge in the relaxed atmosphere of the Lodge's lounge.
The Long Lunch Tour Co
The Long Lunch Tour Co
Come on a journey of Gastronomical Proportions indulging in world class wines paired beautifully with amazing foods that have made Tasmania famous and a gourmet's paradise. All garnished with stunning views and seasoned with history and laughter.
Sail Freycinet
Sail Freycinet
Experience the thrill of sailing in our new, luxury Oceanis 41 yacht. Part or full day cruises taking in spectacular scenery or overnight to Wine Glass Bay.